Voted #1 Dance Studio in Naperville!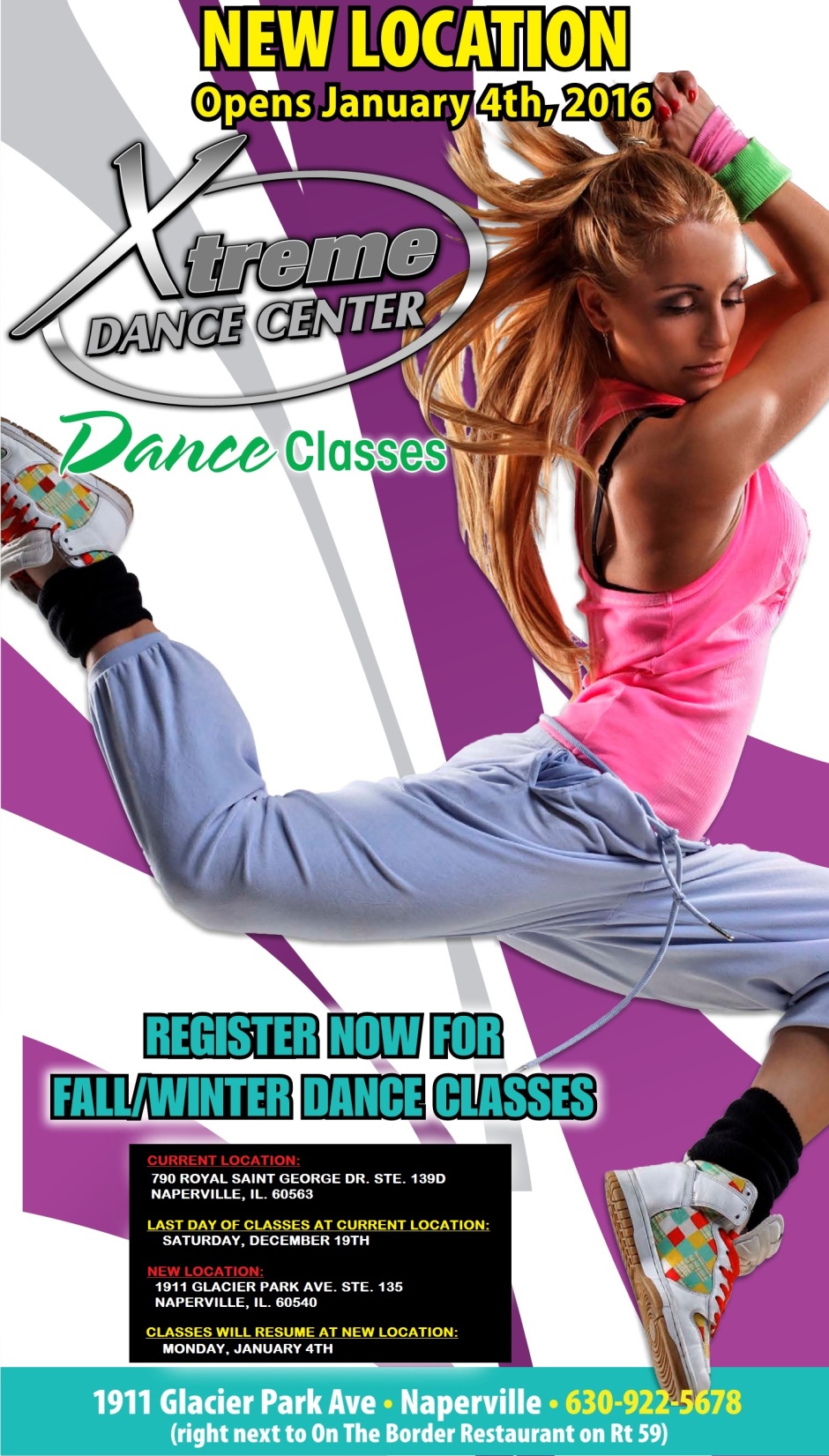 AGES 2 TO ADULT, BEGINNER -thru- ADVANCED - EVERY STYLE OF DANCE OFFERED
2015-2016 Season
Register for Classes!!

Online or at the studio
Registration is Ongoing

Studio Hours:
Tuesday 9:30 a.m. to 12:00 p.m.
Thursday 9:30 a.m. to 12:00 p.m.
Friday 9:30 a.m. to 12:00 p.m.

Monday to Friday 4 p.m. to 9 p.m.

Saturday 9:30 a.m. to 5 p.m.




2015-2016 CLASS SCHEDULE
LISTED BY DAY
2015 -2016
Recital Classes
Broken Down By Age
---
BRAND NEW TO DANCE LESSONS?
Serving the Western Suburbs, Xtreme Dance Center is the Premiere Dance Studio in the Chicagoland Area. Xtreme Dance Center offers the finest in all styles of dance training including Jazz, Lyrical, Contemporary, Ballet, Pointe, Break Dancing, Hip Hop, All Boys Hip Hop, Adult Hip Hop, Stretch, Tap, Tumbling,Turns & Technique, Break Dancing, Recital Program, Birthday Parties, Beginner Teen Classes and Children's Classes Ages 2 and up. Xtreme Provides a home for every dancer from the young preschoolers taking their first dance classes to the recreational dancer interested in learning the newest dance moves and extending to the very finest competitive students in the area. We offer a family environment where memories are created to last a lifetime. Most of the dancers that begin training at Xtreme Dance remain through their high school years. Some of the best competitive dancers in the nation have trained under the guidance of our talented and professional staff.
10 REASONS WHY YOU SHOULD CHOOSE XTREME DANCE CENTER:
HIGHLY QUALIFIED TEACHING STAFF:
The Xtreme Teachers are some of the best in the area. If you view our staff page on our website, you will see a list of all of our teachers, their biographies and their accomplishments


FLOATING DANCE FLOOR FOR ALL STUDIOS:
Floating Floors help reduce the risk of injuries and allow students to dance longer without getting tired.

SMALLER CLASS SIZES:
Most of our classes sizes are smaller to allow students to get more individual instruction from teachers. As a result the students progress at a faster level.


CHILDREN'S PROGRAM:
Our Expanded Children's Program, ages 2-7, has increased classes and teachers to fit parents needs and schedules.
FULL LENGTH MIRROS IN ALL STUDIOS:
Mirrors that start at floor level so that dancers can see their feet from any place on the dance floor.


AVAILABLE OFFICE STAFF:
Desk Staff available to assist you during all teaching hours, every day.
SUMMER RECITAL
ALL LEVELS OFFERED (BEGINNER-THRU-ADVANCED LEVELS)
VIEWING WINDOWS FOR ALL STUDIOS

SAFE AND CONVENIENT DROP OFF/PICK UP FOR STUDENTS